We install Fog / Smoke Security Systems to BS 7939 and its new grading as BS EN 50131-8.
Here at SGS Systems Limited we are the leading Independent Fog / Smoke Security installation company in Europe with excess of 6000 units installed to date, we are the primary UK support centre and provide training and repair services for PROTECT Fog Cannon.
We are certified to install and service several types of Fog / Smoke security systems including well-known brands such as PROTECT Fog Cannon, Fog Bandit, Concept Smoke Screen and Martins Smoke Cloak with additional fits for UR FOG.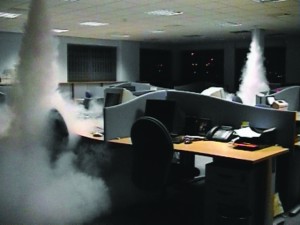 All of our Fog / Smoke security installations will work independently and without a connection to your existing intruder alarm. The fog / smoke system is triggered when an intruder enters the area. The dense fog will fill the space rapidly within seconds of activation and will reduce visibility almost completely, subsequently disorientating the intruder. Our Fog / Smoke security is connected as a Raid system and installed in same method as any other alarm system. In addition, we supply you with remote panic buttons to fire the smoke if a Raid situation occurs, we also install a vocal unit to say the smoke has been fired in accordance to EN 50131-8. Each site is individually designed and installed by our own proficiently trained engineers and complies too BS EN 50131-8.
Within the commercial side of our business we supply and service Fog / Smoke security systems for businesses and organisations, these include school computer server protection, computer hardware suppliers, amusement arcades and independent jewellers. Our core business works with several UK retailers including, the money shop, B&Q, Boots, Screwfix, Co-op, Sainsbury's, Tesco and ASDA.

Fog / Smoke Security for Domestic Home Owners

Further to our several years of experience in commercial fog / smoke security we are now able to offer similar security options for our domestic customers. High profile clients, wealthy property owners and those with larger estates who wish to protect properties with our estate security system or deluxe items including garage security for high valuable vehicles. To date we have protected a wealth of high profile individuals, who for which have included the makers of Victoria Beckham & Cheryl Cole's 18 carat gold, diamond shoes.
Please note that all of our clients and their property is looked after on an individual basis depending on their protection needs and the structure of their property. For further information, please contact us for a free no obligation quotation and site visit so that we can fully define your security requirements.